Friday night salsa class and social dancing at Mijana.
Mijana is located at 1290 N Scottsdale Rd, Tempe, AZ 85281 It is 1.5 miles north of 202 on Scottsdale rd (between Carls Jn and Goodwill store).


Salsa venue overview:
During the day it is a Middle Eastern restaurant and on Friday night all tables are cleared from the center and it becomes a dancing spot for dancers of all levels.There is a full service bar and a restaurant and everyone I talked to who tried their food says it's delicious.
The cover charge is $10 that includes salsa lesson and social dancing. You have to be 21 or older to get in.The parking is free with a parking space always available.
 
Salsa lesson: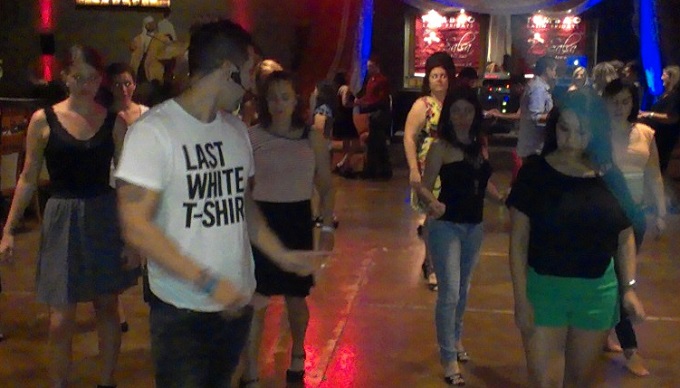 The class starts at 9.30 and ends at 10.30. It is split in two groups beginner and intermediate. Instructors that teach classes usually rotate each Friday (for both groups). They are very good salsa instructors from all over the valley. (On the picture above is Larry Garcia a guest instructor from Mambo Exquisite teaching the intermediate group and showing the girl's footwork of the pattern). Having a different instructor each week allows you to learn different styles of dancing as each instructor brings their own style to the class. If you for any reason you did not enjoy the class with one specific instructor, there will be another instructor next week, which is another benefit of having instructors rotate. Classes as a rule get just the right number of people. They are popular and many people show up for the class, but not too many that could make it hard to learn something new. Although each night is different and some nights are more busy than others. The classes are taught "on one", however there are a lot of experienced dancers who dance "on two "when the social dancing starts.
 
Social dancing:
The social part of the evening starts at 10.30. The place has dancers with different levels of experience. There are beginners and intermediate dancers who stay after the class to practice the newly learned pattern, totally random people who come for a dinner and stay to dance, and there are experienced dancers that show up after 11pm and stay till the place closes at 2am. The cowed has people of all ages, with most of the people being over 25. This is an awesome place for anyone with salsa experience or without.
 
Music:
Music that is played during the social part of the night is mostly salsa with some bachata songs now and then. DJ Ben (the picture above) is not only a great salsa DJ and a nice guy, but also a very experienced salsa dancer, and on a dance floor can make any girl look good. 
 
Reasons I like this salsa venue.
I go out for salsa classes and social dancing 3-4 times a week and equally enjoy a few salsa venues listed on this website. If I was pressed for an answer about which one I like the most, I think Mijana would take the top of my list. I like it because it is a popular salsa spot for both lessons and social. If you go there every week, you will see some familiar faces (about 30% of the crowd are regulars), and there are always a lot of new people each Friday. It is a great place to dance with some people you already know and meet new people at the same time. One of the things I appreciate is consistency. In a year and a half that I have been going there for both salsa lessons and social dancing, the place has never disappointed me: rotating salsa instructors are always on time, and have some new patterns every week; Dj Ben is very good at what he does; the crowd is friendly. If I had to come up with a suggestion about what this place could do better, I don't think I could find anything that needs to be changed.
 
Pattern taught in the intermediate class.

Intermediate salsa pattern at Mijana on Friday.

Another cool salsa pattern from intermediate class at Mijana on Friday.

More high definition videos recorded at Mijana.
Have you been to Mijana lately for the Friday salsa night? 
Share your thoughts and ideas about the class and the social dancing in the comments/reviews section below. Write a review or submit a comment.

Please read comments/reviews policy before contributing to the discussion.